The guesthouse is located in the peaceful village of Bělá, approximately 1 km from Nová Pec, a tourist resort by the Lipno Lake. Bělá is a convinient base for hiking, cycling, and water sports in the stunning environment of the Šumava countryside. The village is connected to the Bavarian and Austrian parts of Šumava by several cycling paths.
There is also a lot of marked hiking trails in the surrounding area. Hiking and cycling trips can be combined with a train ride.
Going down on a canoe the River Vltava, which runs through a nature reserve, is a beautiful experience indeed. The demanding nature of the descent itself all depends on the level of the water. However, a several-hour descent of the river in the vicinity of Lipno is always a suitable alternative, even for novices on the water. Canoes can be hired from the guesthouse and we will arrange the transportation.
Swimming in the Lipno lake is possible near to the guesthouse. Mantained sandy beaches are located within a ten-minutes drive – Horni Plana, Cerna v Posumavi (also a water slide, and a boat rental).
One genuine rarity of this area of Šumava is the Schwarzenberg canal (www.schw-kan.com). The dozens of kilometres of this unique system of canals for fluming timber were built at the end of the 18th and the beginning of the 19th century according to the design of forest engineer Josef Rosenauer and were still used for their original purpose until 1962. Certain sections have recently been restored and the fluming of timber during the summer has become something of a tourist attraction. The wide, gentle paths that run by the side of the canal are used by cyclists in the summer and cross-country skiers in the winter.
There are also a number of Czech cultural gems around half an hour's drive away, including the towns of Český Krumlov and Prachatice, Rožmberk chateau, and the monastery in Vyšší Brod.
The area is perfect for cross-country skiing during the winter and Nová Pec itself is connected to the regularly mantained cross-country tracks that run through the entire area of the Šumava ridge.
It takes some 30 or 40 minutes drive to get to the Austrian cross country tracks higher in the mountains (altitude of 900 – 1200 m) or to the well equipped ski area Hochficht – www.hochficht.at.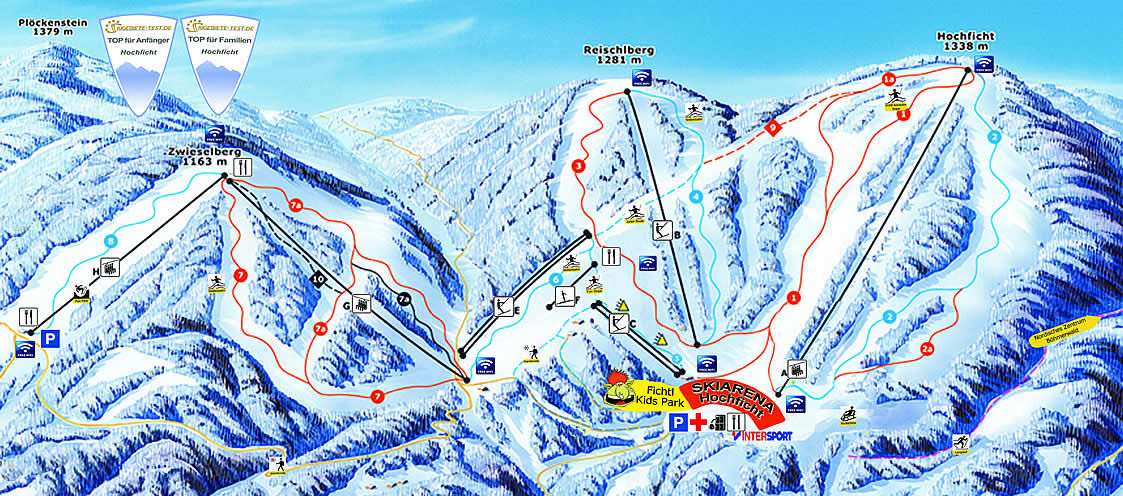 In similar distance is a family-oriented ski area Mitterdorf with 8 km of slopes, a chairlift, seven ski lifts and a children's park. Mitterdorf is ideal for beginners and children, thanks to its wide and clear slopes. More information can be found at www.mitterdorf.cz.