Come and enjoy high-quality skiing at Hochficht!
The ski area covers over 20 km of ski runs, new gondola lift, 3 comfortable chair-lifts, 7 lifts and a children's park with moving belt.
Excellent value for money: children up to 10 years ski just for € 4 / day and youth up to 19 years for children's prices!
For ski holidays, we offer accommodation for seasonal prices.
The complete price list is shown in Accomodation tab.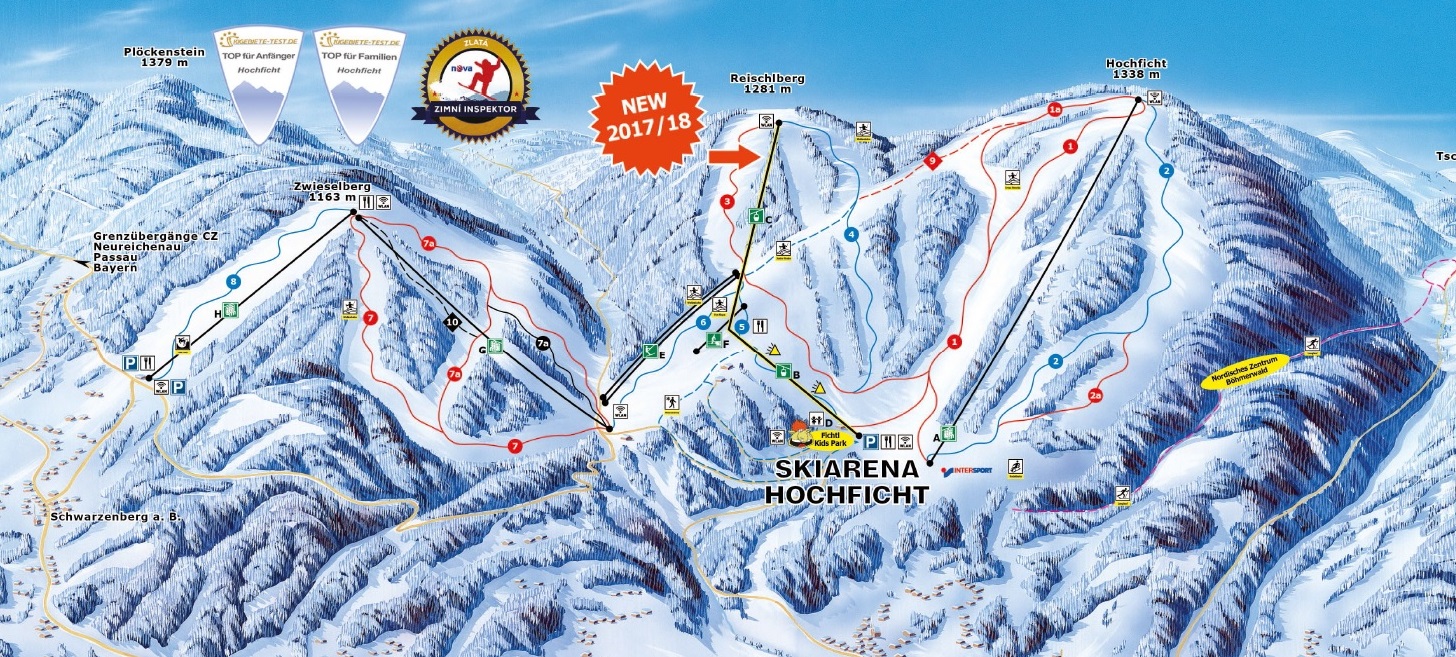 Advantages of Hochficht ski area:
More than 20 km of slopes (9 km blue, 10 km red, 1 km black)
Comfortable transport – new gondola lift, 3 x four-seater chairlift, 7 ski lifts, Kids Park with "Magic carpet"
Ski resort with the highest location in the Czech mountains (858 – 1,337 m a.s.l.)
The longest ski slope of the Czech mountains – 3.4km-long Stierwieseabfahrt
Red FIS ski slope Standartabfahrt on which the European Cup takes place
Schöneben, top-quality cross-country ski area – 70 km of daily maintained ski tracks
Children under 10 years accompanied by a parent pay only 3 €
Free parking right next to a chairlift
The advantage of Hochficht is the length and variety of downhill runs at the total length of 20.8 km which connect the three peaks called Hochficht (Smrčina) 1,338 m, Reischelberg (Hraničník) 1,281 m and Zwieselberg 1,163 m into an amusing "skiing seesaw" which cannot be found in any other Czech ski resort. This is an ideal place for everyone as it offers not only Stierwiese, a gentle 3.4km-long family downhill run, but also a standard FIS race ski slope on which the European Cup took place, or 1,500m-long black Zwieselbergabfahrt downhill run.
The slogan "more time of skiing, less time of waiting" holds true for Hochficht at a hundred per cent. You will be comfortably transported to the downhill runs by three modern four-seater chairlifts and eight ski lifts. A "magic" moving carpet (185 m) is a speciality for children and beginners and is the longest one in the whole of Upper Austria.
The ski area Hochficht is 30km from the guesthouse, along the route: Nova Pec – Predni Zvonkova – Schöneben – Lichtenberg – Ulrichsberg – Zentrum Hochficht. Average transport time is 40 min.
In similar distance is a family-oriented ski area Mitterdorf with 8 km of slopes, a chairlift, seven ski lifts and a children's park. Mitterdorf is ideal for beginners and children, thanks to its wide and clear slopes. More information can be found at www.mitterdorf.cz.